| | | |
| --- | --- | --- |
| | LEARN MORE | 3D Connexion Motion Controllers |




Overview
The flagship Motion Controller. With the SpacePilot you can gain 30% efficiency over just using a mouse. Adaptive sensing technology gives the exact functions wanted . unlimited functions and functionality at your fingertips.
New Functionality
The major new capabilities are in the keys that are around the cap in the centre.

The idea behind the keys is to provide frequently used functions at your fingertips to increase efficiency and productivity while working by cutting out the many trips the hands have to make to the keyboard and mouse for various commands.

The keys are positioned for easy access and everything is clearly labelled. The functions that show on the LCD are functions directly from the applications - so the user is instantly familiar with these functions because they know the application.

All keys are designed using appropriate shape and feel - for example, the keyboard modifiers look and feel just like a high-end keyboard.

The soft-coated, sculpted palmrest provides a comfortable feel, guiding your hand into a natural, comfortable position. The controller cap and programmable speed keys are easy to reach without taking your hand off the controller, allowing minimal hand stress and reducing the strain and repetitiveness associated with 3D design.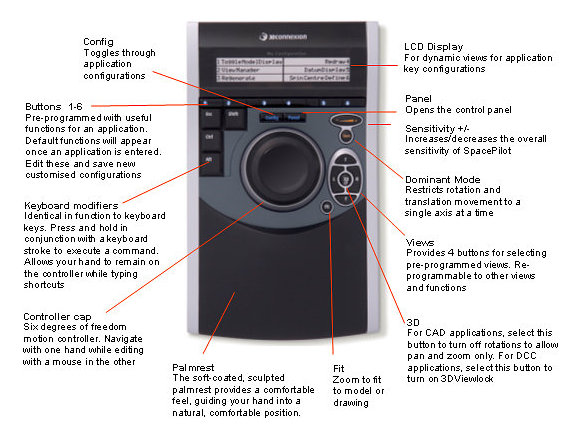 Specifications
Buttons: 21+ Programmable speed keys, 15 reprogrammable
LCD Viewing Area: (W x H) 4.0" x 1.0" (102.4 x 30.2mm)
Active Area: (W x H) 3.7" x 1.0" (93.4 x 26.2mm)
Display Format: 240 x 64
Interface type: USB
Weight: 1.875 lb (0.85 kg)
Dimensions: (L x W x H) 9.3" x 5.6" x 2.0" (236 x 143 x 53 mm)
Supports over 150 applications
System Requirements
Intel® Pentium® 4 processor
Genuine Microsoft® Windows® XP Professional
Linux
20 MB free disk space for driver and plug-in installation (CD-ROM device required)
USB 1.1 or 2.0