As Advertised



new FlashLibraryActivate( 'https://i.dell.com/images/emea/odg/asadvertisednew/index_all_products_ieen.swf','900','277','#FFFFFF','8',alternateMarkup2814399aef67466ea30631dd04aad9d5,'','flashID_0773aad128f04bb592910138c597fbf7','high','noscale','true','opaque','false','');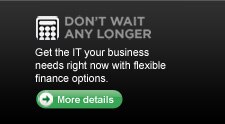 Computer Deals As Advertised - for Small Business
Dell laptops and desktop computers are powerful, reliable and just what you need for your home or office computing. Here at Dell you can find all of the latest offers and advertised specials that will make purchasing your computers and accessories even more affordable.
Dell computers and technologies can be adapted to fit your unique requirements, and our promotional offers are a great way to start taking advantage of these state-of-the-art products. Laptops, desktops, servers and other electronics and accessories - you can find specials on all these items and more.
Take a look at the deals we're offering today and find some incredible specials and offers that can help you get started with the computers and accessories you need.